Cashman Equipment Fleet Continues to Expand
Cashman Equipment Corp., is pleased to announce the continued expansion of its global barge fleet with the addition of three large ballastable deck barges, measuring 330' x 100' x 20'. The newly acquired barges, named the JMC 3339, JMC 3340 and JMC 3341, are currently based within Cashman Equipment's Gulf of Mexico fleet and are available for worldwide deployment.
The addition of these 330' barges to our fleet is a clear demonstration of Cashman Equipment's continued commitment in support of our customers' needs in the Gulf of Mexico and beyond", said Dan Schwall, Cashman Equipment's Senior Vice President.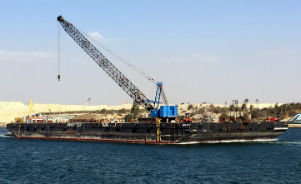 Cashman Equipment Corp., a global provider of barges and marine services, owns and operates one of the youngest, largest and most robust fleets in the industry with over 130 vessels, including inland and ocean barges ranging in size from 120' to 400', accommodation barges, as well as specialized oil spill recovery barges and cranes, and tug services up to 100 TBP. Cashman Equipment maintains offices and fleets around the world including the United States, Canada, Mexico, South America, Singapore/Australia, the Persian Gulf and Africa.
For additional information on these newly acquired barges, please contact us at +1-225-216-7694 or via e-mail at info@4barges.com. For more information on Cashman Equipment Corp, please visit www.4barges.com