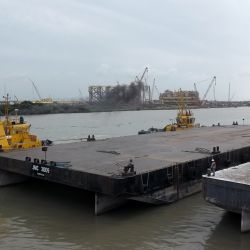 CHM Maritime, an affiliate company of Cashman Equipment Corp., is pleased to announce the addition of two 300' x 100' deck barges to their fleet, located in Tampico, Mexico. Both barges, the JMC 3003 and JMC 3009, are Mexican flagged and fully classed by American Bureau of Shipping (ABS) and are available for immediate charter.
Additionally, CHM will welcome the JMC 3336 to the fleet at summer's end 2015. The JMC 3336 is a 330' x 120' ABS deck barge and offers more stability than a 400' x 100' barge.
Over the past several years, CHM Maritime has continued to expand its presence in the Americas, with plans to add additional barges to its fleet in Mexico over the next several months in order to meet the continued demands of its customer base.