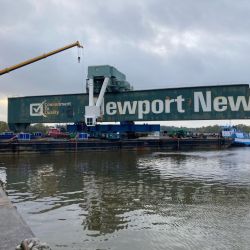 Cashman Equipment Corp. was contracted by Sarens USA in September 2020 to charter two 250' Class ABS deck barges, the JMC 256 and JMC 259, to support the demolition of the Green Crane at Newport News Shipyard (NNS). Sarens USA was awarded this Contract in July 2019. NNS is dedicated to the US Navy providing maintenance support, as well as building new Air Craft Carriers and submarines for the Navy.
Crane 32400 – which is the official name - has a span of 440 feet, an estimated weight of 2,500 MTons, and a lifting capacity of 300 mTons. The crane was erected in the 1960s, and was still in limited use today, mainly to refuel the Ford-Class Aircraft carriers.
Preparations for demolition and removal began in March 2020. Despite challenges related to the COVID pandemic and bad weather caused by Hurricane Laura, both leg sections, followed by the main girder, were lowered to the barges without issue. Loading of these sections was completed by a unique system developed by Sarens USA – a combination of a load spreading beam system and a free standing 8-tower set-up, in combination with the Sarens Climbing Tower (SCT) on a 24-meter tall base of the SMLT 5800 (Sarens Multi Lift Towers). The towers were then topped off with 8 strand jacks of 450T.
Once the crane sections were secured to the barges they were transported upriver to be offloaded, and eventually scrapped.
Cashman Equipment Corp. is proud to have partnered with Sarens USA on this project in supporting the Newport News Shipyard, & US Navy.